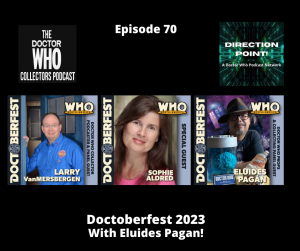 This one-day festival will be soon be one of the most popular Dr Who events in the midwest! This year, Sophie Aldred is the main guest. This could turn into a a major Dr. Who event.  Join us!  We have a dedicated room for Dr Who Collectibles along with some costume contests and other great activities.  I am a guest and my guest today is also a guest at Doctoberfest.  Eluides Pagan joins me today to talk about this amazing festival.

See my Video interview with Eluides on
Patreon
! ($15 level or above). Or less for early access to this podcast! The Most Outrageous Offer! –
Dr. Who and the Seeds of Doom in Hardcover

The Second printing goes for much less –
Dr. Who and the Seeds of Doom 2nd Printing
You can buy it for a more reasonable price
here
!