We enter the year 1978. The Allen Wingate imprint is gone and we now have the Longbow/WH Allen, then just WH Allen. These hardcover books now go for big bucks on the secondary market and sometimes the reason is a head scratcher.  I go through all of the hardcover books in publication order and my guest, Tony Whitt (Host of the Dr. Who Target Book Club Podcast) tells us what his panel rated each story.  Got an extra $6000? You might be able to afford this year's collection!  Keep Collecting!

See The Video Interview only on
Patreon
! ($15 level or above).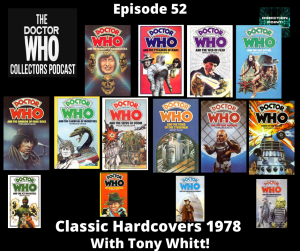 Collection Protection:
Bags Unlimited, Inc.
The Most outrageous offer – You be the judge!
Link to crazy offer
-while it lasts! Dr. Who and the Planet of the Daleks Hardcover in Non-Library Condition Original price 3.95 (pounts) Crazy Price $2,597.62 Found one that is outrageous!
Email it to me! 
You can find the Dr. Who Target Book Club Podcast
Here
!